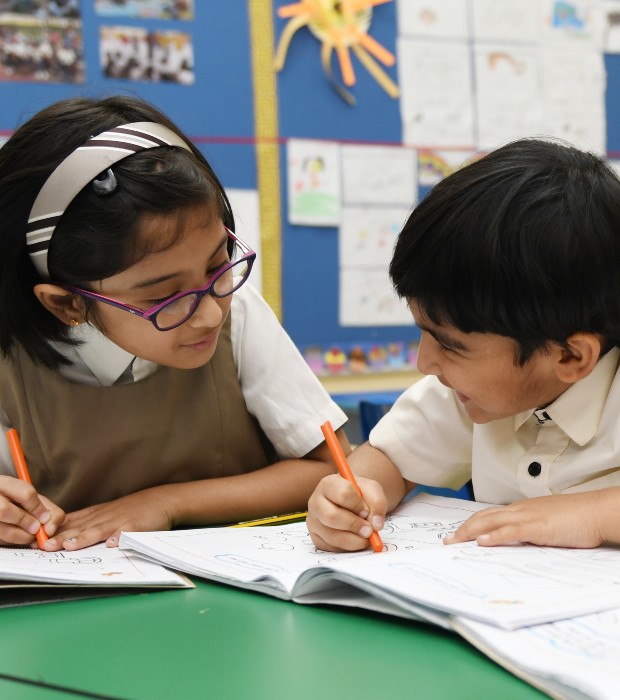 Curriculum Overview
GEMS Our Own English High School Dubai is one of the leading Indian Curriculum Schools in Dubai
Following a curriculum that has been carefully designed and developed by the National Council of Educational Research and Training, New Delhi, GEMS Our Own English High School - Dubai is one of the leading Indian Curriculum Schools in Dubai.
As well as promoting academic achievement, our dynamic, child-centric, skills-based curriculum has been designed to ensure the all-round development of every student – identifying their unique talents and unleashing their true potential, whilst allowing them to follow their own interests and maintain their connections with their own home country and culture.
From the very start of their journey with us here at Our Own Dubai, our students are encouraged to develop an enthusiastic approach to learning and a drive to excel in everything they do. Of course, it's about more than just academic learning – our pupils are also encouraged to develop positive attitudes, healthy habits, and the strong moral and ethical values they need to become reliable, responsible, and valuable world citizens.
GEMS Our Own English High School - Dubai has a strong international focus. Classes are taught in English, the main language of instruction, whilst Arabic is introduced in Grade 1 in line with the requirements of the UAE Ministry of Education.
Starting at Kindergarten level, the curriculum culminates in the All India Secondary School Examination at the end of Grade 10 and the All India Senior School Certificate Examination at the end of Grade 12, both of which are overseen by the Central Board of Secondary Education (CBSE), New Delhi, India.
Opening up a whole world of opportunities, these qualifications set pupils graduating from CBSE Schools (UAE) in good stead to apply for universities and higher education colleges across the globe.