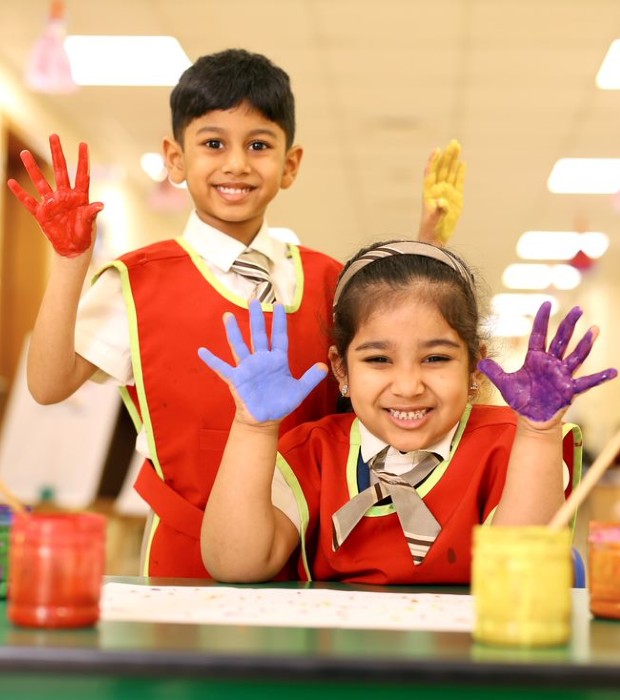 Kindergarten
Welcome to The Foundation Years at GEMS Our Own English High School Dubai
Children's training in the early years goes a long way towards preparing them for academic and life tasks they are required to master later. We expose our Kindergarteners to rich experiences in learning that prepare them well for years of schooling that lie ahead.
Our Kindergarten Programme focuses on creating a secure, stimulating, and nurturing learning environment, in which our students can develop through structured play activities, practical art and craft, games, interaction, and imaginative play.
Intellectual growth is also encouraged through sharing stories and discussion, writing, number games, observation, and scientific experiences. Throughout the Kindergarten stage, we keep our parents closely involved and assessment is conducted throughout the year.
Features of the Curriculum

A Thematic Integrated Approach.
Clear 'early learning goals' from EYFS.
First-hand, concrete, age appropriate, relevant multi-sensorial learning experiences based on their fundamental and developmental needs.
Activity based and skill-oriented learning.

Physical/Motor skills
Personal, Social, Emotional skills
Language skills
Numeracy skills
Creative skills
Knowledge & Understanding of the world
Play-based, hands-on and experiential learning

Curriculum Enrichment Activities

'KLAP' – The Kinder Learning Assistance Programme to help bridge learning gaps
Annual concert & Sports Day
Field Trips
Arabic Language sessions
ICT
Music
PE
After Class Enrichment Activities (during regular school, from 11:30 a.m. – 1:30 p.m.)

The Bumble Bees Programme - opportunities to develop various interests and abilities

Unique Innovative Programmes/Facilities

Learning Corners to provide opportunities for free flow play
Play Park, Traffic Park, Sand Play Area
Creative Art Corner