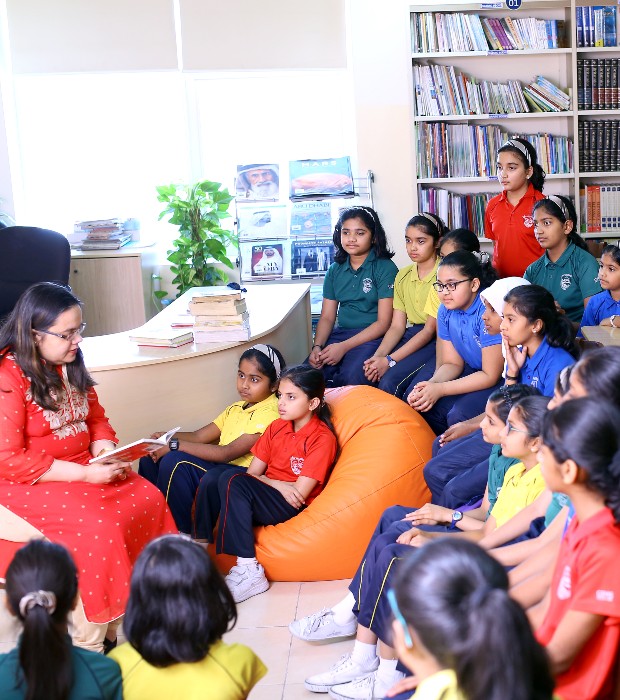 Extra Curricular
Activities
We believe the benefits of competitive athletics and extracurricular activities are fundamental to a child's total education. GEMS Our Own Dubai boasts of a robust, multi-faceted extracurricular activity programme that extends beyond academic pursuits and caters to the holistic development of every child.
Art, Culture, Science and Sports are seamlessly integrated into the curriculum offering a wide spectrum of opportunities to our students.
Students participate in extracurricular activities at Inter-House, Inter-School as well as National competitions in sport, choir, debate, elocution, reading, recitation, quizzes as well as MUN. Our extra-curricular activities include:
Physical Education
Health & Physical Education is an integral part of our curriculum. Woven into our timetable, students not only participate in Health & Physical Education activities during circle time, but are also actively engaged in sports such as Badminton, Basketball, Volleyball, Track & Field events, Kho-Kho, Football, Chess & Table Tennis where healthy competition and team spirit is encouraged. The Annual Sports Days celebrated at every phase bear witness to these essential experiences. Special coaching is offered in a variety of games to meet the challenges in Inter-School and Intra-School tournaments.
Music & Dance
Music breathes life into our school corridors. Included as a subject in the curriculum, students are encouraged to display their talents and given voice training to hone their ability. Students across phases participate and compete in various Inter-School competitions such as Millennium Melodies, Harmony, musical concerts and choir.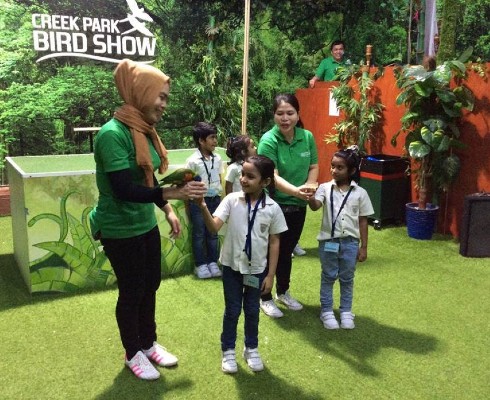 Field Trips
Our educational trips are designed to complement classroom teaching with real-life experience. Excursions, camps, picnics, including visit to the EXPO 2020 exhibition are a part of the planned curriculum.
Assemblies
Our themed and purpose-driven assemblies enable students to be sensitive citizens – keenly aware of their surroundings and tolerant of diversity. Special assemblies are arranged for specific events, festivals, and national days and on globally recognized important days.
Girl Guide
Offered in Grades 7 & 8, the girl guiding programme is a platform for young adolescents to embark on an altruistic path. From uniform donations to volunteering at numerous events, Our Own Girl Guides truly put 'service above self'. Students are provided opportunities to polish their life skills through various workshops held during the academic year.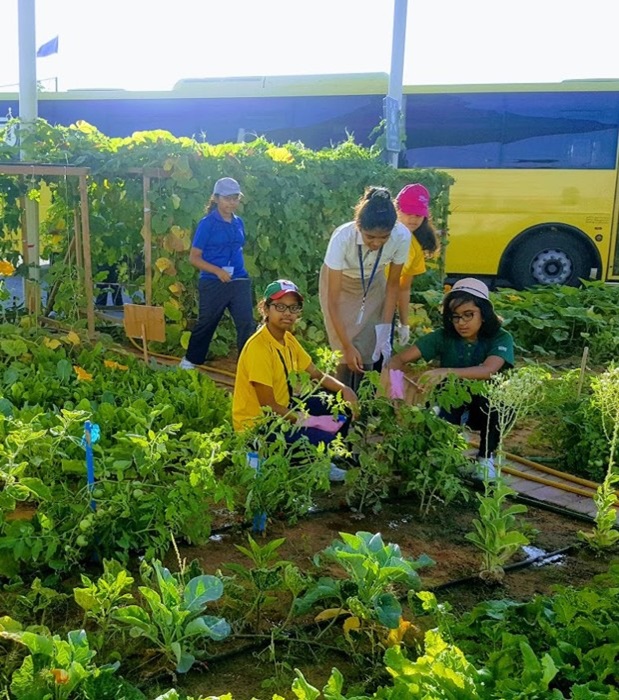 Our Own Farms
Aquaponics, Hydroponics and Our Own Blossoms offer unique gardening activities that prepare students to be young agriculturalists and entrepreneurs. Caring from seed to fruit, students develop enterprise and teamwork skills as well as self-confidence and a sense of "capableness" along with new skills and knowledge in food growing — vital for the 21st century.
Our Own Challengers
The main objective of the programme is to increase the level of general awareness amongst the student community vis-à-vis Science, Literature, Technology, and Current Affairs outside the realm of the formal syllabus, and to promote their quizzing ability.
Go Green Club
The Eco Club of the school provides opportunities for students to explore and create solutions through various Eco initiatives. Funds generated by the sale of recycled paper & cans are donated towards the higher education girl children of support staff. Led by a team of eco-monitors, the club ensures that students implement the values of sustainable living.
EPWS
Experience a Profession While in School- the life skill training programme is specially designed for selected students of Grade 8. This is an internship programme that provides students with a first-hand experience in profession and professionalism.
Student Leadership Programme
The programme is designed to build leaders for tomorrow. Students inculcate a sense of pride, belonging, responsibility and integrity as they fulfill their duties in their role as student leader.
Themed Weeks
The school calendar is well- structured and designed to give impetus to every academic subject, offering students a wide range of subject activities to participate in.
School Events And Activities
The school hosts a variety of events and activities each year which the students help to organize and in which parents also participate and attend.
INNOVEX
A School Exhibition which showcases the spirit of enquiry, creativity and innovation.
K.S. Varkey Inter-school English Elocution Competition
The Inter- School English Elocution for Girls. OOD has created the contest in memory of its founder Late K.S. Varkey.
Parent Engagement Week
An interface where parents participate in learning through activities designed to celebrate the partnership of parents & school.
Life Skills Summit
Students of Grade 12 have a taster of life after school as professionals from industry share about their world.
Model United Nations
The active Model United Nations Club provides opportunities to practice research, public speaking, teamwork, negotiation, writing and problem-solving skills in a structured environment.
Some pictures of our Activities