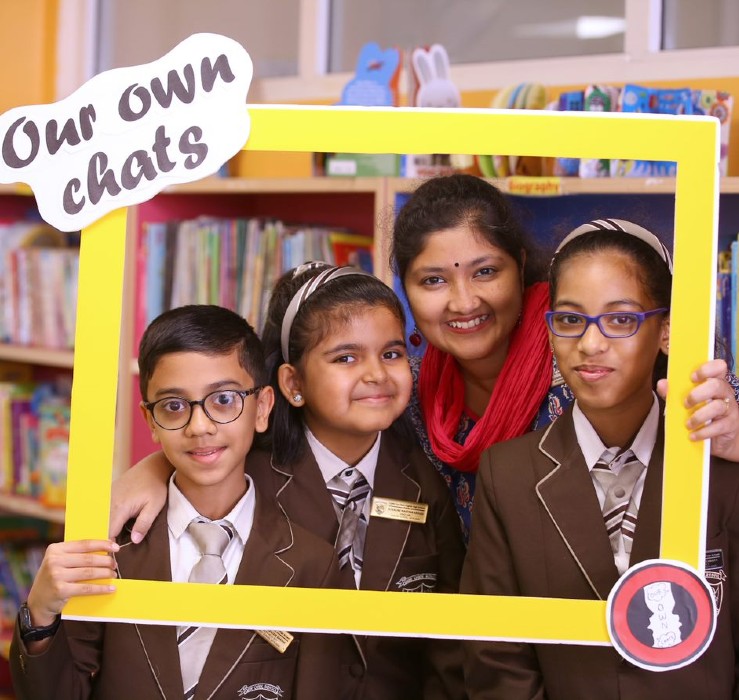 Primary School
Welcome to the Primary Years at GEMS Our Own English High School Dubai
Grade 1 to 4
The Primary section aims at the holistic development of students through joyful learning methods that extend learning beyond the classroom.
Students are guided and trained to acquire 21st Century Learning Skills. They are exposed to challenging and differentiated learning experiences which nurture critical thinking and problem-solving skills. During Primary School, we embrace the students' innate inquisitive nature in order to develop their basic skills through first-hand experiences. Students are encouraged to question, explore, apply, and test what they know, whilst treating each other with respect and developing the beginnings of social etiquette.
The wide range of extra-curricular activities and wellness programmes create an enthusiastic and happy learning environment in the primary classrooms.
Features of the Curriculum

Provides a fine balance of scholastic and co-scholastic skills
Skill-based, child-centered and experiential
Structured progression of scholastic skills for smooth transition
Meets the National Agenda targets and complies with the statutory requirements of CBSE and MOE
Promotes independent learning & learning beyond the classroom
Meets individual needs & offers appropriate challenge

Options for Second Language

Hindi
Malayalam
Urdu
French

The school follows a policy on change of second language. Request for change in second language will be considered only up to Grade 2. No changes will be allowed in Grade 3 and above.

Curriculum Enrichment Activities

Sports Fiesta
Harmony – A Musical Extravaganza
English Elocution
Qirat competitions
Ramadan Challenge
Artistic Expression
Math & Sciensational Fair
Our Own Challengers - General Knowledge Quiz
Pret A Picture
Reading Literacy Programme
Field Trips
Athletic Meet
Talent Hunt
Wellness Programme - Happiness Challenge
Primary Patch – Organic Farming
Remedial Programme
PE, Music, Art & Craft, ICT and Library
Niche Activities - student-led thematic activities to extend learning beyond the classroom.
Research & Design activities
Afternoon Enrichment Programme on regular school days from 2:00 p.m. – 3: 45 p.m.
Music, Dance, Athletics, Aerobics, Sports Activities, Art, Public Speaking etc. for students of Grades 3 & 4 only.

Unique Innovative Programmes

Budding Authors Programme
Word Whistle
Hello Math Champ
Science Word Power Challenge
Scientist in Me
Innowayters
Little Entrepreneurs
Mind Blogger
Primary Olympiad
Science Gallery

Commendation Certificate for Academic Excellence
Appreciation Certificate
Star of the Section – Singing, Art, English Elocution and Creative Writing
General Proficiency for Academic Excellence (Grade 4)
All Rounder Award (Grade 4)