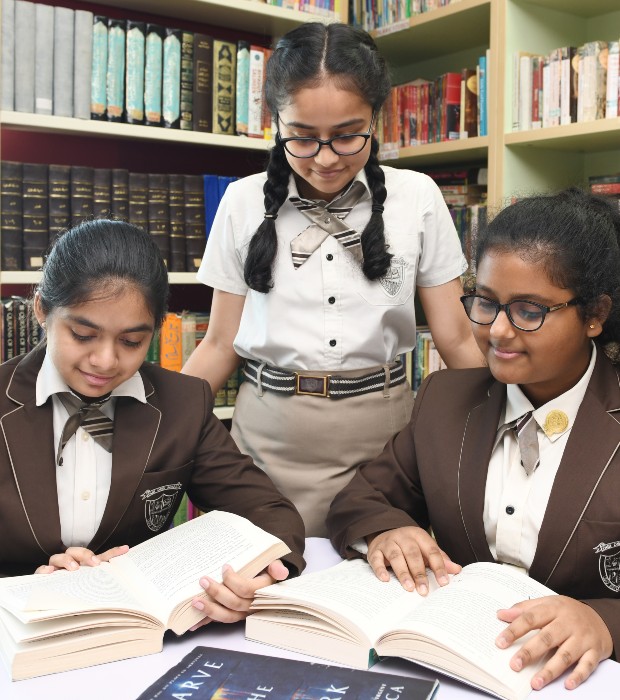 Middle School
Welcome to The Middle School at GEMS Our Own English High School Dubai
Grades 5 to 8
The Middle School serves as a catalyst in students' personal growth enabling them to become active, productive and reflective participants in the society. The unique synergy between scholastic and co-scholastic opportunities empowers students to build essential life skills and propels them to be self-directed problem solvers and decision makers.
A pervasive listening culture and open-door policy to address adolescent concerns and issues forges strong, supportive relationships in a safe and more inclusive environment.
The Middle School Curriculum seeks to produce confident, competent learners through the development of learning communities, the stimulation of student/faculty discussions, and the encouragement of electronic exchanges.
Features of the Curriculum

Inspires students to be creative, vibrant and dynamic.
Complies with statutory NCERT requirements, CBSE framework & KHDA/MOE directives
Promotes moral, cultural, social and physical development of young adolescents.
Strives to develop the 4Cs - Collaboration, Communication, Creativity and Critical thinking.

Hindi
Malayalam
Urdu
French

Curriculum Enrichment Activities

English and Science Clubs
Mind Boggler
Math Challenge Corner
Artist of the Week / Artistic Expressions
Arabic Password of the Week
Super Reading Sunday
Pret A Picture
Mathemagical Monday
Tech /Tasty Tuesday Talks
Whizbang / Wellness Wednesdays
Talent Thursday / Thursday Unplugged
Middle School Choir
English 'Just-a-Minute' and Elocution
Arabic Recitation & Arabic Spell Bee
Islamic Qirat and 'Just-a-Minute'
Our Own Challengers – General Knowledge Quiz
Niche Activities - student-led thematic activities to extend learning beyond the classroom
Research & Design activities

Afternoon Enrichment Programme

On regular school days from 2:00 p.m. – 3: 45 p.m.

Music
Dance
Athletics
Aerobics
Sports Activities
Art
Public Speaking etc.

Unique Innovative Programmes

Our Own Farms - sustainable farming projects'- Aquaponics, Hydroponics & Our Own Blossoms
Girl Guides
EPWS - Experience a Profession While in School - specially designed for the students of Grade 8
A Genius Within – A unique programme for high achievers
e4Enrichment Challenge– a differentiated learning programme
Digital Workstations
CBSE approved Skill Courses for Grades 6-8 – Financial Literacy, Design Thinking & Mass Media

Commendation Certificates for Academic Excellence
ACE Scholar Badges for Academic Excellence
Proficiency Prizes
All Rounder Award
Sports Champion
Co-curricular Champion