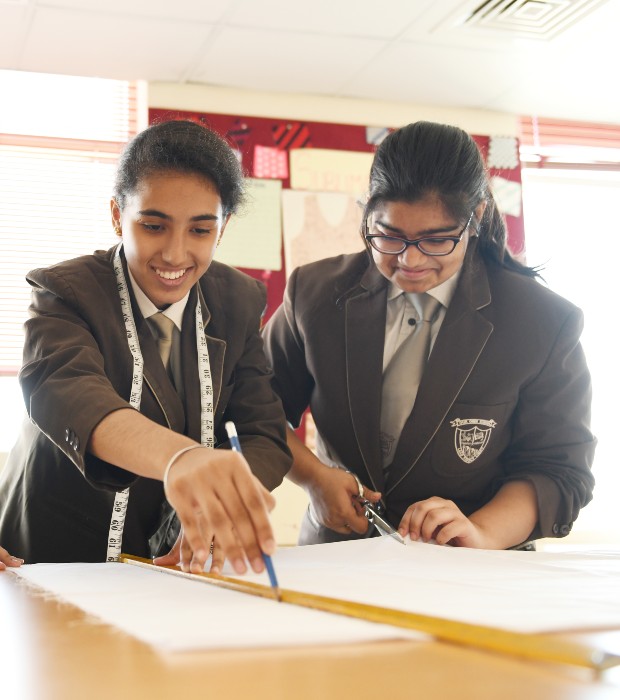 Senior School
Welcome to the Senior School at GEMS Our Own English High School Dubai
Grades 9 to 12
Senior school with its strong focus on academic excellence and holistic approach offers students a global perspective in a stimulating and challenging environment. Every students' journey is well-mapped, helping them to carve out a personalized pathway as they prepare to leave the portals of the school to join a global society.
Year on year the Phase celebrates outstanding academic results in the CBSE Board Examination for both Grades 10 & 12 with students ranked as UAE and GEMS toppers.
The Phase prioritizes Emotional Wellbeing wherein students are supported with comprehensive, developmental guidance to develop resilience for a happy and healthy life.
This is a critical stage of education for every pupil. We provide the support needed to help our students stay focused on their goals, advance their knowledge, skills, and abilities, and grow into responsible young women who are ready to take their place in professional society.
Features of the Curriculum

Complies with standards laid by CBSE & KHDA/MOE
Meets individual needs
Technology driven
Fosters intellectual, social, emotional and physical wellbeing of students
Provides a comprehensive programme of Career Advice and University guidance

Second Language Options for Grades 9 & 10

Hindi
Malayalam
Urdu
French

Subjects offered in Grades 11 & 12

English Core, Life Skills, General Studies, Work Experience and Health & Physical Education are compulsory subjects offered in Grades 11 & 12.

Islamic Education is offered to all Muslim students.

Science Stream :

Physics, Chemistry, Biology, Mathematics, Computer Science, Psychology, Food Nutrition & Dietetics

Commerce Stream :

Accountancy, Business Studies, Economics, Marketing, Mathematics, Applied Mathematics, Entrepreneurship, Informatics Practices, Physical Education

Humanities Stream :

Political Science, Fashion Studies, Psychology, Home Science, Marketing, Physical Education, Economics, Informatics Practices , Mass Media

Curriculum Enrichment Activities

Life Skills Summit
University Fair
Model United Nations
Overnight Camps
Field trips
International Trips
Elocution
Our Own Challengers
Niche Activities - student-led thematic activities to extend learning beyond the classroom - Quiz
Athletic Meets
Tête-à-tête sessions – Counselling Support
Talent Contests
Research & Design activities

Commendation Certificates for Academic Excellence
ACE Scholar Badges for Academic Excellence
Proficiency Prizes
Sheikha Fatima bint Mubarak Scholarship for Academic Excellence
All Rounder Award
K. S. Varkey Gold Medals for Toppers in Science, Commerce & Humanities
Co-curricular Champion Award
Sports Champion Award
Principal's Award for the best outgoing student of Grade 12